On the back of our latest series, we meet Geir Gunnarsson, software engineer extraordinaire… and intrepid snowboarder.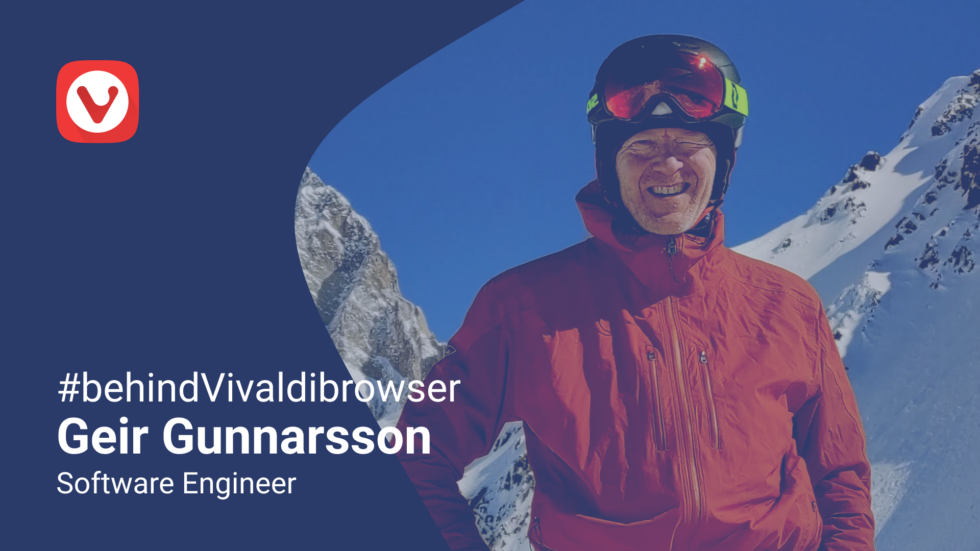 Curious to get to know another Vivaldi team member? Today we introduce you to Gir Gunnarsan. He has been working for Vivaldi since day one as a software engineer. Based in Reykjavik, Iceland, she is a true outdoor enthusiast. But there is much more to know about him.
What do you love about working at Vivaldi?
I love the people – the Vivaldi team, the users and the volunteers. Our in-house team consists of pure talents from different parts of the world, bringing in different perspectives and experiences. Then, we have everyone who uses Vivaldi and gives us feedback – a group of enthusiastic users who report bugs and provide feedback day and night. We also have a great volunteer community that helps us translate our browser into all the possible languages ​​in this lovely planet of ours. I also like the freedom to choose what I feel is the most pressure to apply each time.
What are your favorite productivity features in the browser?
The Notes panel is my most used feature. It helps me a lot to be more productive in my daily work. I write memos, make lists of things to remember, and open it in the side panels during meetings.
I also use the tab tiling feature a lot. Especially for online shopping. It's so useful to be able to compare products from different vendors side by side.
And then there's a built-in Vivaldi mail client that I use as my main mail client for various mail accounts, be it my personal Gmail account or my professional Vivaldi account.
What's the biggest thing you've learned so far?
Your choice of browser really matters. Before joining Vivaldi, I was using Chrome and had no idea that the browser itself could affect the privacy and security of my browsing activities. Plus, I've learned that I can improve my productivity with features I never imagined were part of my browser.
What else should we know about you?
I love programming and building a product that users care about. But more than that I love being outside on my mountain bike or my snowboard. I've done back-country snowboarding throughout Iceland as well as remote areas of Greenland. This winter, I plan to visit Georgia's Caucasus Mountains. Oh and recently another important part of my life: I'm a grandfather now. This is great fun. I recommend it.
---
I would like to commend our volunteer translators by Geer. Your contribution is important in making Vivaldi more accessible to more people around the world. thank you so much!
What language do you use on Vivaldi? Which languages ​​would you like to see us add? Tell us in the comments. Or share your favorite place so you can enjoy and experience the outdoors. it's your decision! I