Even as regular visitors to Marrakech, we still find the medina exhausting with mopeds speeding along the alleyways and vendors jostling for your attention. It's a wonderfully bustling and beautifully chaotic place that rattles the senses, but can also be downright exhausting, especially if you visit during the summer months.
Disclaimer: TraveLynn Family received a free three-night stay at Riad Africa in return for this honest review and social media coverage. As always, there are all our own words and opinions.
Does anyone actually visit Marrakech in the summer months when temperatures soar to 50°C? Well yes, that would be us, as well as many other travelers as apparently it is high season (European and Moroccan school holidays).
Our last visit to Marrakech came after four months of traveling around Morocco with the family. We had spent the past month in the breezy coastal town of Essaouira where summer temperatures are a good 15°C lower, and so the oppressive dry heat of Marrakech on arrival was a shock to the system.
My main advice to anyone visiting Marrakech with children is that accommodation is key, especially if you want the authentic experience of staying in the medina. You need an oasis from the chaos, especially with the little ones because there are very few places where they can run around freely in the city. But this is even more the case during the summer months, when a swimming pool and air conditioning are essential.
However, trying to find affordable accommodation in the medina that accepts families can be tricky. Indeed, many riads have a policy of not accepting children under the age of 12, which having stayed in many riads over the years, I completely understand. Riads are old Moroccan houses (and palaces) where the rooms are built around a central courtyard often featuring a swimming pool; all sounds are amplified in these spaces.
But, located in a quiet corner of the medina, the mid-range Riad Africa in Marrakech is one of the few riads to be promoted as a family riad. Plus, they have air-conditioned family rooms and there's a pool! That ticked everything the boxes for us and we were excited to check it out.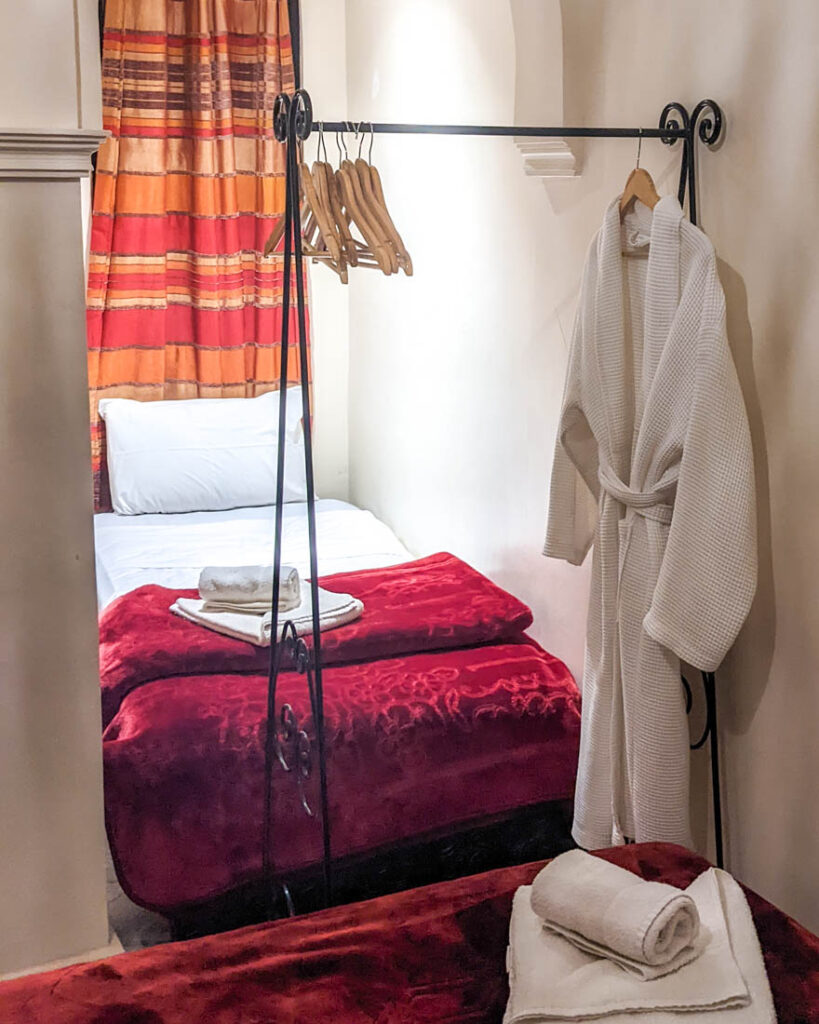 Arriving at Riad Africa
We had taken a taxi to Marrakech from Essaouira, which dropped us off at Tinsmiths Square. From there it was an easy 5 minute walk through the medina to the entrance of Riad Africa, following Google Maps. We had received walking instructions by email before we arrived, but we didn't really need them.
Surprisingly, there was no mint tea when we arrived. It's something we've become used to all over Morocco and would have been welcome after our short walk in the heat. But I could tell that the one serving staff member had his hands full of requests from a lot of other guests, or maybe that's not the thing to do here.
The lack of mint tea didn't matter, as I could see our boys were staring at the pool.
The central courtyard
Decorated with red furniture on a white background, the central courtyard is beautiful and certainly resembles the oasis you would expect from a Marrakech riad. However, it is much smaller than what is depicted in the photos of the Riad Africa website, and there isn't a lot of seating and a walkway around the pool.
The pool is also much smaller than the fish-eye lens would suggest. It's 1 meter deep which is great for young children, but it's really only big enough for one group/family at a time, and definitely not a pool for kids (or parents) to dive into ; there just isn't the space or the depth. Small pools are typical of riads, and really, this one is more of a plunge pool.
But the size of the pool didn't really matter to our boys, and they enjoyed playing. There aren't many places in Marrakech where kids can play, so a pool of any size comes in handy.
There's also a small plunge pool just off the central courtyard, which is heated during the winter months.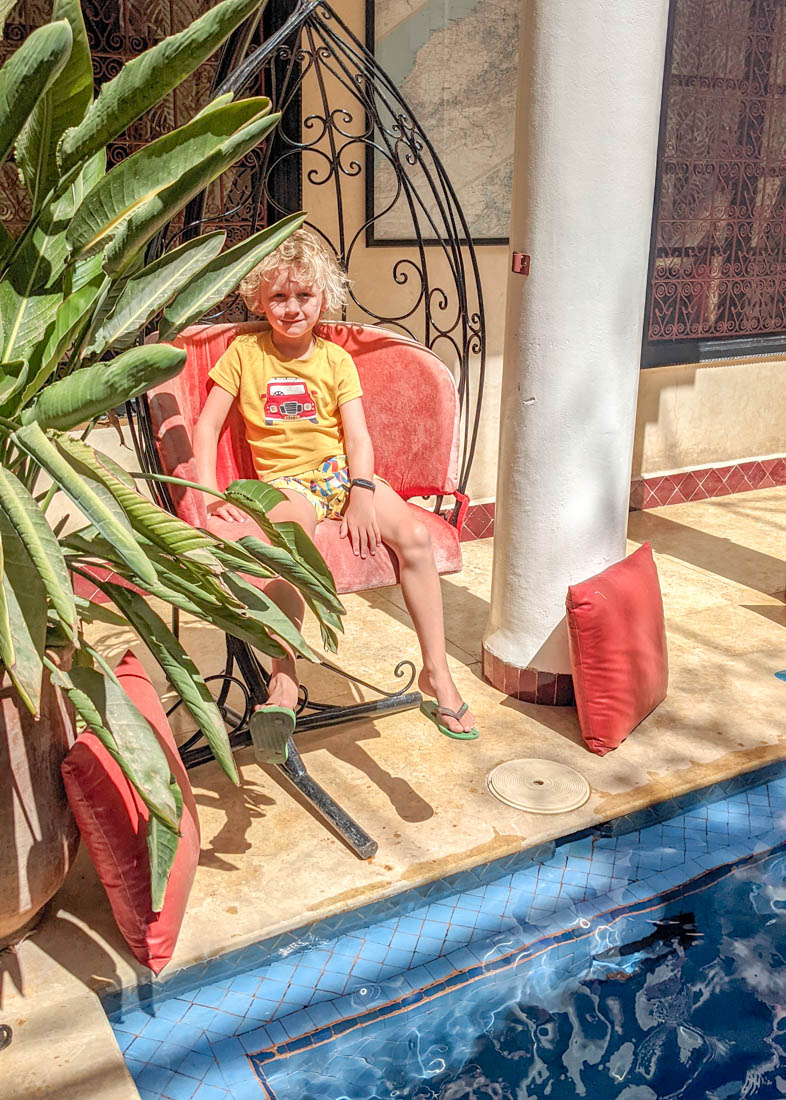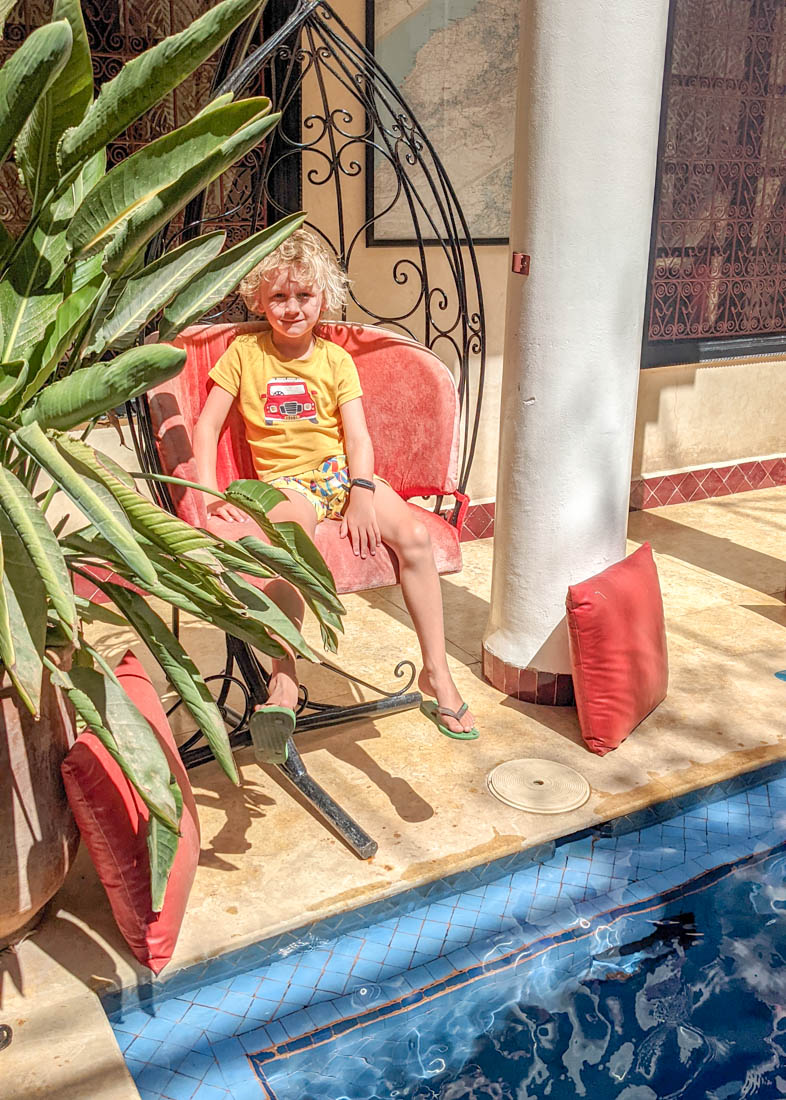 Our family room at Riad Africa
The rooms are named after places in Africa, which our long-time readers will know we appreciate after our Land Rover adventures in sub-Saharan Africa for 4 months.
We were led away from the main courtyard and up a flight of stairs to two adjoining rooms (Zanzibar and Lalibela, which I did not find on the site). Being away from the main courtyard meant we were away from the noise around the pool, but equally we parents didn't have to worry too much about our boys making too much noise either. Indeed, we were well hidden.
The boys took Zanzibar with a double bed, a single bed and a very narrow bathroom with shower. We the parents have taken Lalibela with a large double bed and an en-suite bathroom with a deep soaking tub and overhead shower.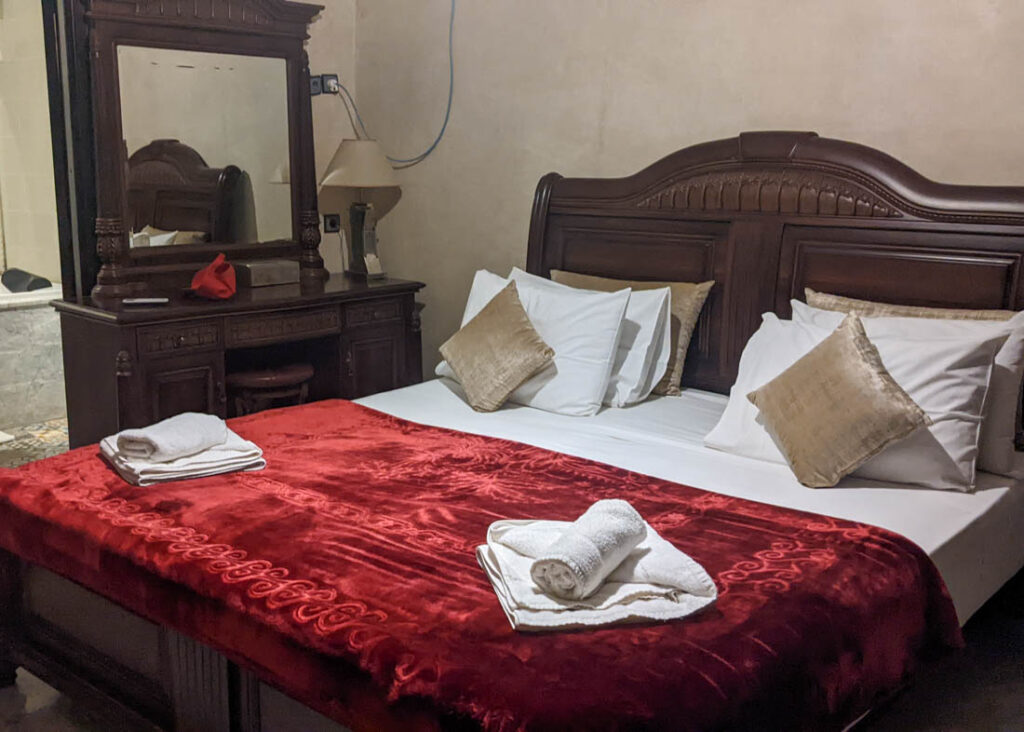 Large dark wood furniture seems to flood the rooms that maybe I should call "cosy". In addition, there is little natural light (although this is very common in riads). The pictures on the website suggest that we may not have had one of the best rooms.
But the beds are extremely comfortable, the air conditioning is appreciated, and the deep soaking tub a wonderful treat. Most importantly, the rooms are quiet (except for the intermittent dingdong of the front door bell below) and we all slept very well.
The rooms have a TV and tea/coffee making facilities, but no fridge. There were a few things that didn't work in the rooms (tv, lamp, rain shower) and the rooms were a bit shabby. We reported the lamp, but when we realized it wasn't going to be fixed, we were happy to get by. We don't really watch TV anyway and I hadn't had a bath in months so we weren't bothered by the rain shower not working.
Breakfast at Riad Africa
A buffet breakfast is served on the rooftop, which offers fantastic views of the city. There are little nooks dotted around the roof to sit with a good novel afterwards, so maybe take a book with you (I hear parents laughing at me here!) The roof is also very special at bedtime sunshine with the call to prayer drifting across the rooftops.
Breakfast consists of standard local breads, croissants, cereals, juices and hot drinks. The fried eggs are served with a mixture of tomatoes and spices in a large tagine; absolutely delicious, if you're quick enough to get it. Omelets can be prepared on request. I'll be honest, it wasn't the best breakfast we've had in our years of visiting Morocco, and we had to frequently ask the staff for plates, cutlery and sold out food (not ideal with young children).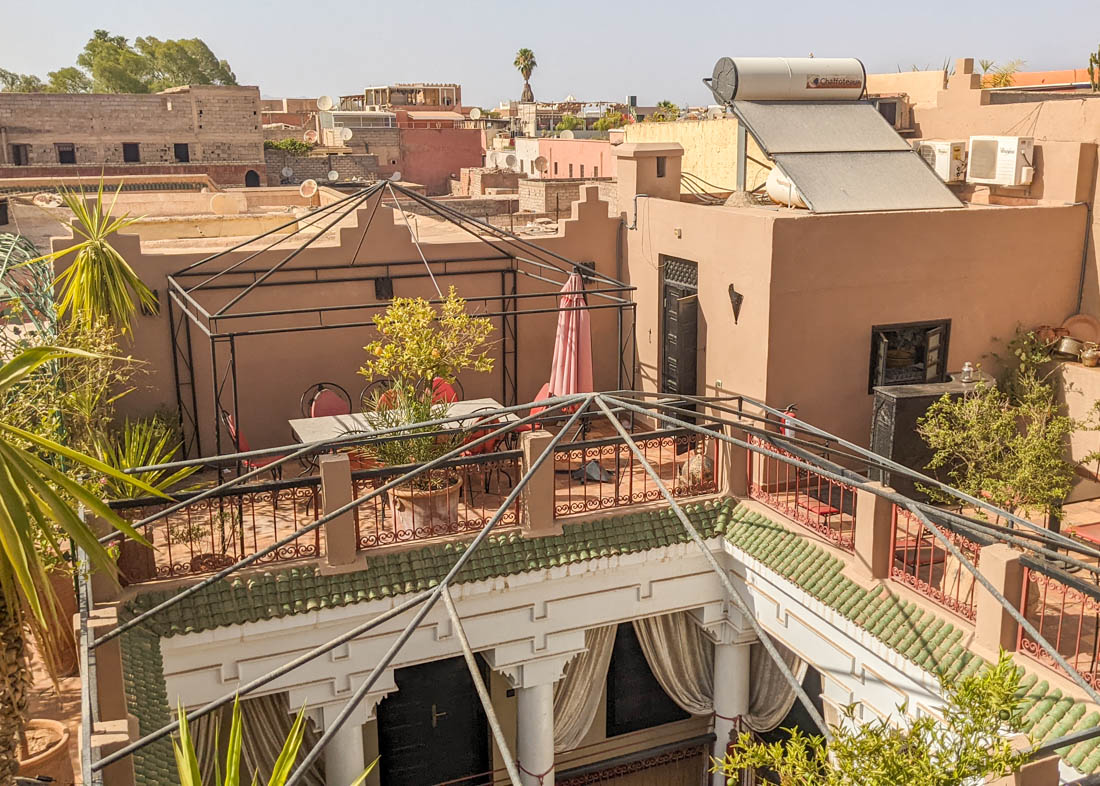 Location of Riad Africa
The location gets 5 stars from us. It's tucked away in a series of bends along quiet lanes at the edge of the medina and just a five-minute walk from the main square. You can be among the hustle and bustle just two minutes away, but it's a wonderful place to retreat (no outside noise is heard inside the riad).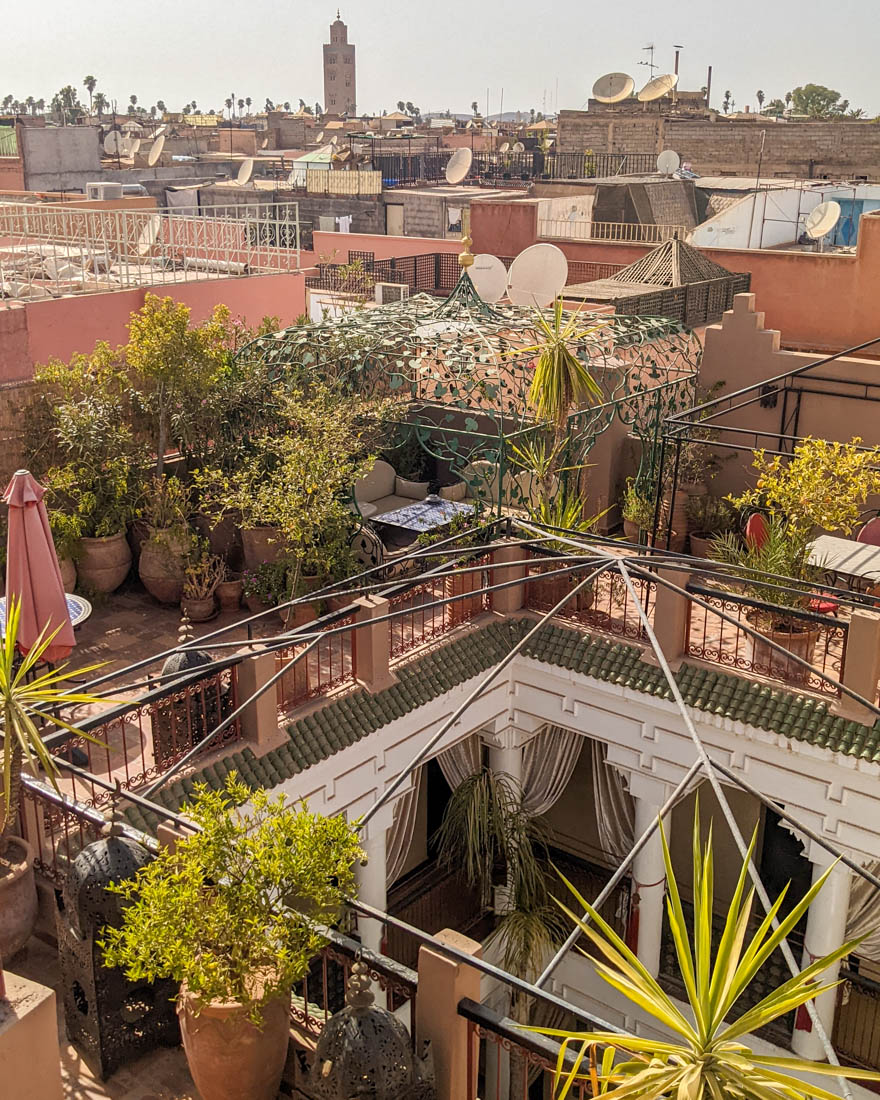 WIRELESS
While many families like to disconnect during their travels, as a digital nomad family, WIFI connection is very important to us. We parents were both working while we were there and the boys had online lessons.
WIFI is good for the medina, although the speed goes up and down. Video calls worked well.
What to do at Riad Africa
The riad serves dinner every night, although with so many quality restaurants dotted around the medina, we chose to eat out every night. There's also a spa and hammam on-site; those who follow us on Instagram know how much I loved my hammams in Essaouira, but since it's more expensive here, I gave up.
Riad Africa also organize many activities in and around Marrakech.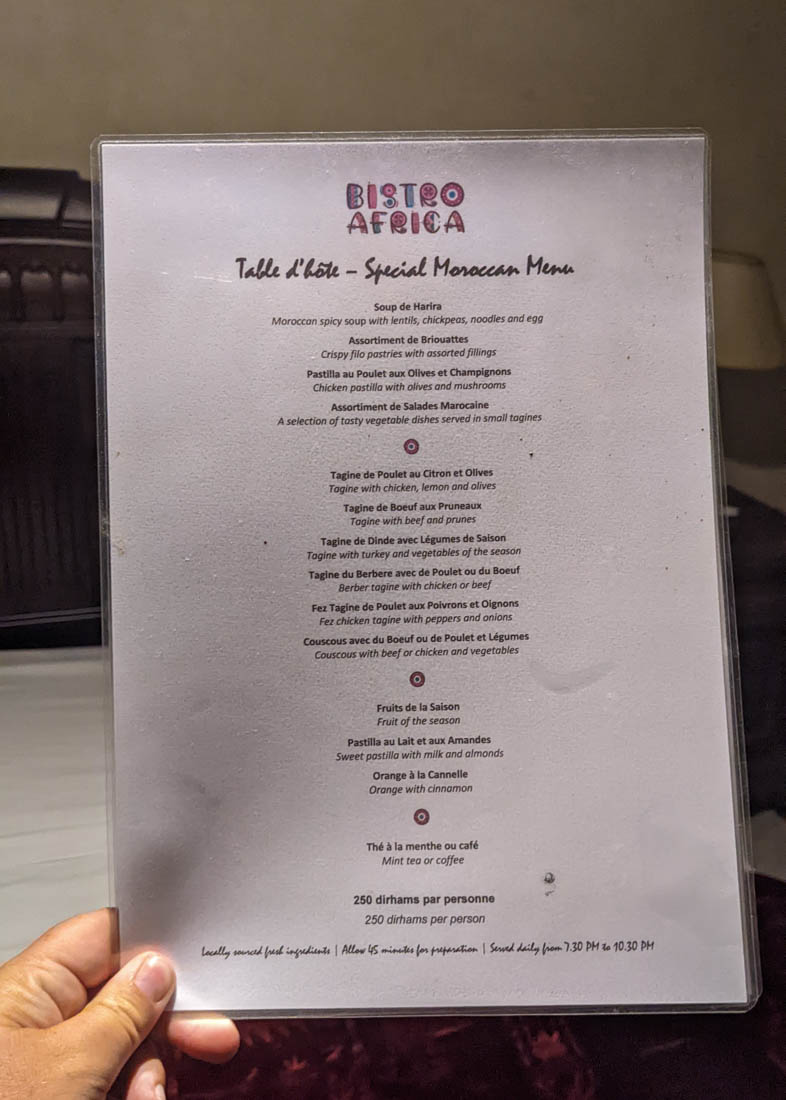 But really, the best thing to do in Marrakech is just to walk and stroll, and see where the day takes you. Check out our guide to visiting Morocco with children, as well as our Morocco road trip itinerary.
Would we recommend Riad Africa for families?
Riad Africa is a mid range hotel. A family room costs from £135 per night at the time of writing.
While our room was a little tired and the breakfast didn't quite live up to our expectations, Riad Africa is one of the few riads in Marrakech that specifically presents itself as a family riad. Plus, the location is excellent and the small pool is an added bonus (an absolute must if you're visiting during the summer months). But my favorite place to Riad Africa stands on the roof at sunset, listening to the call to prayer carried by the gentle breeze; just magic.
If you are looking for a good base to discover Marrakech with your family, Riad Africa is a very good option.
Click here for the Riad Africa website
---
You may also like to read:
Marrakech with Kids: Essential Tips to Keep Parents Sane
Morocco with children: your questions answered
REVIEW Mirage d'Atlas: luxury accommodation for families in Marrakech