Fez's sprawling medina, with its confusingly narrow network of alleyways, can be exhausting, especially in the heat. Your choice of accommodation is therefore worth considering, especially if you are visiting Fez with children. Location, character and pool were our main criteria, and Houyam Palace ticked all three boxes and more.
Disclaimer: TraveLynn Family received a free two-night stay at Palais Houyam in exchange for this honest review and social media coverage. As always, these are all my own words. This article also contains affiliate links. If you click to buy, it won't cost you anything, but I get a small commission.
Walking down the dusty alley of the medina of Fez, following the Google Map point with the phone in hand, a local stops us and warns us that there is nothing there. Indeed, the "palace" is supposed to be only 50 meters in front of us, but all we can see is a small, unimposing door with faded writing above it.
We walk confidently out the door in the afternoon heat, beads of sweat rolling down our cheeks; Surely our Google Map point is correct? Please, because after two weeks of scorching heat, first in Tetouan and then in Chefchaouen, we can't wait to jump into a pool.
Fortunately, Google Maps did not fail us. We walked through the discreet doorway and entered a magnificent oasis of grandeur. We had arrived at Houyam Palace.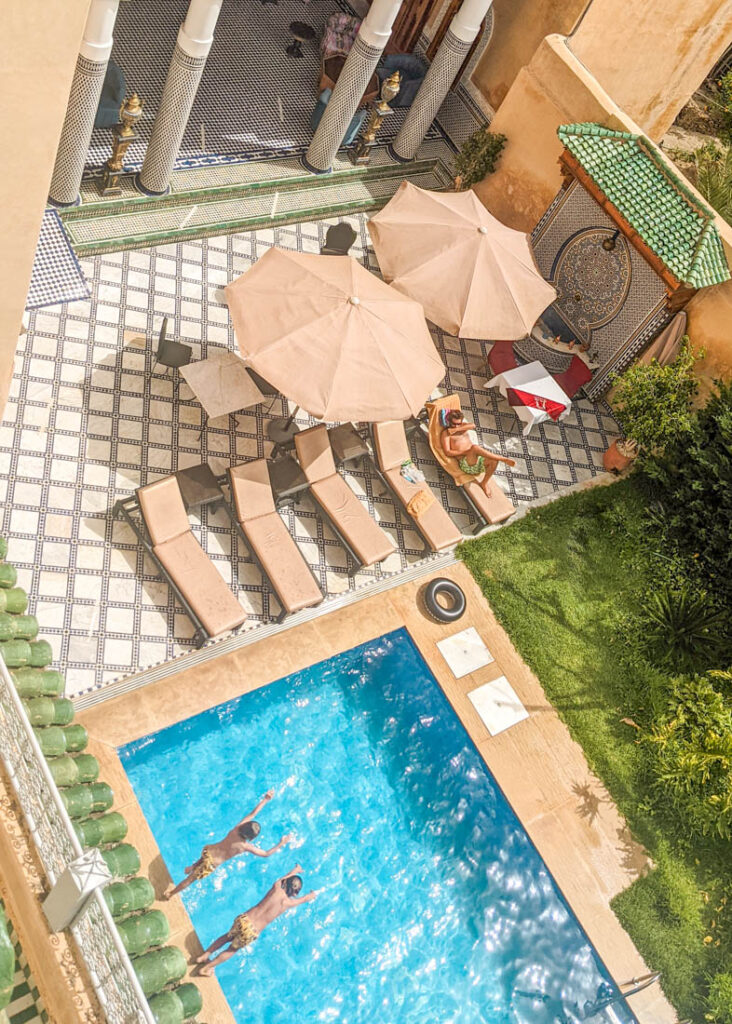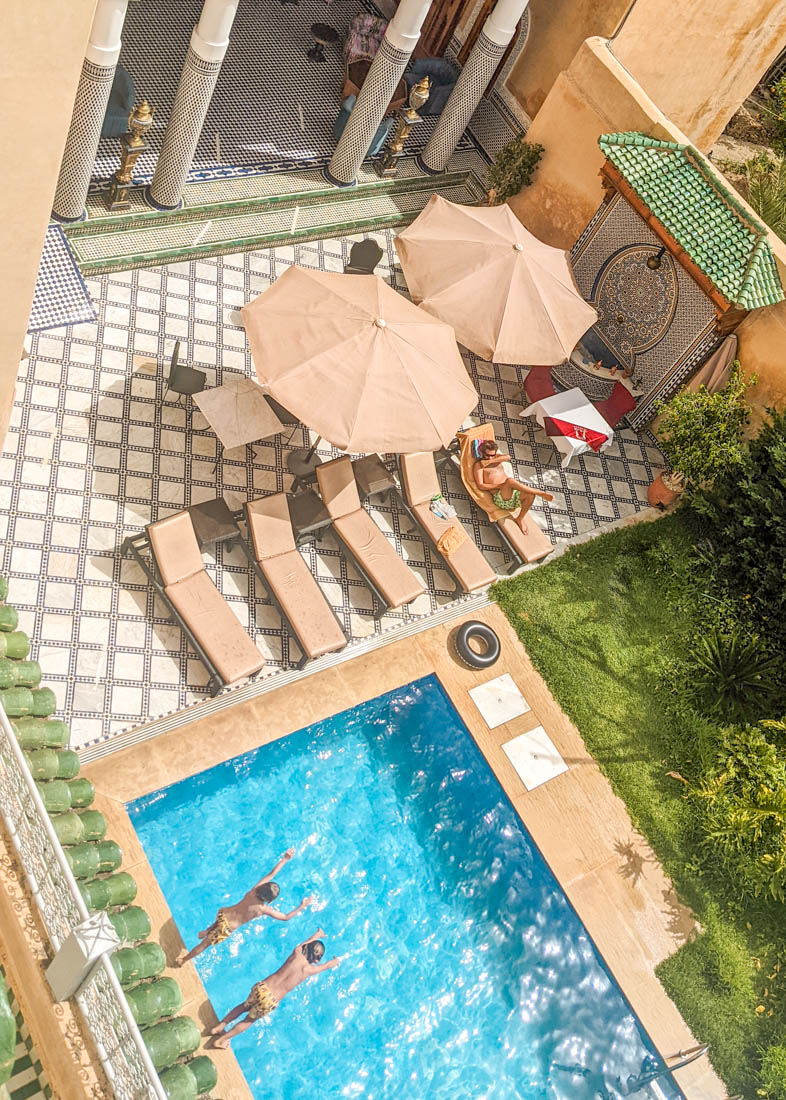 First impressions of Palais Houyam
Hidden in a quiet corner of the medina of Fez, Houyam Palace is a pocket of tranquility, offering an authentic riad experience. But, what makes it perfect for families is the relaxed and warm welcome; expect punches and high fives for the kids, and maybe the threat of being thrown in the pool (chuckle).
I am always wary of staying in riads with our boys. The amplified sound of the pool echoes off the tiled walls, and I feel the need to apologize to the quiet couples reading in the corners; it doesn't make for an entirely relaxing stay. But when you find a riad that is very comfortable with the children, and above all, that puts the parents at ease, then you have to tell you about it!
And Houyam Palace is truly breathtaking. The inviting pool sits in front of a two-story courtyard with tiled pillars and flooring, as well as handcrafted stonework and woodwork. Contrasting modern tub chairs invite you to sit back and admire the art must. Rooms start from this central courtyard, but be sure to follow the steps up to the roof, for stunning views of Fez.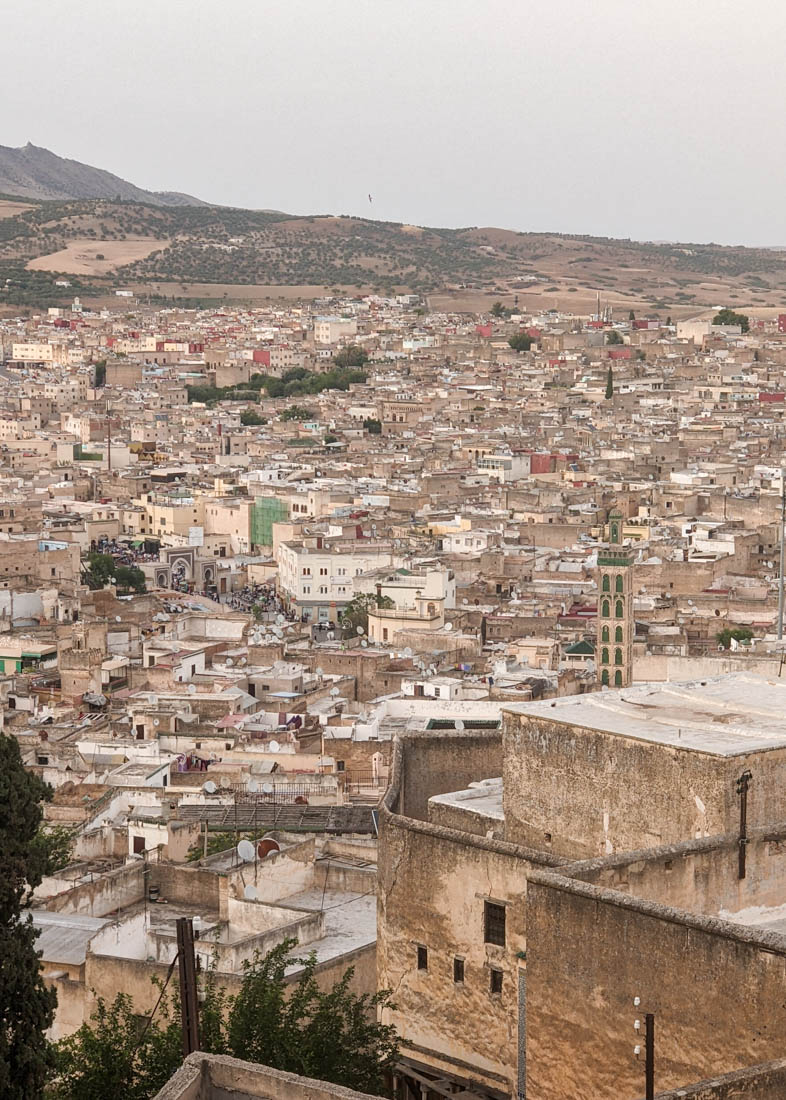 Our bedroom
We had a royal suite on the ground floor, next to the open courtyard and pool. This was very convenient as we parents could read and work in the yard outside the door while our boys slept. In fact, I'm writing this review for you in the yard right now, waiting for the boys to wake up.
The decor of our large family room echoes the craftsmanship elsewhere in the riad. There is a large four poster king size bed and then two single beds for our boys converted from the sofa. Moroccan tiles adorn the floor and walls, and a detailed ceiling with the ornate brass hanging shade adds grandeur to the room.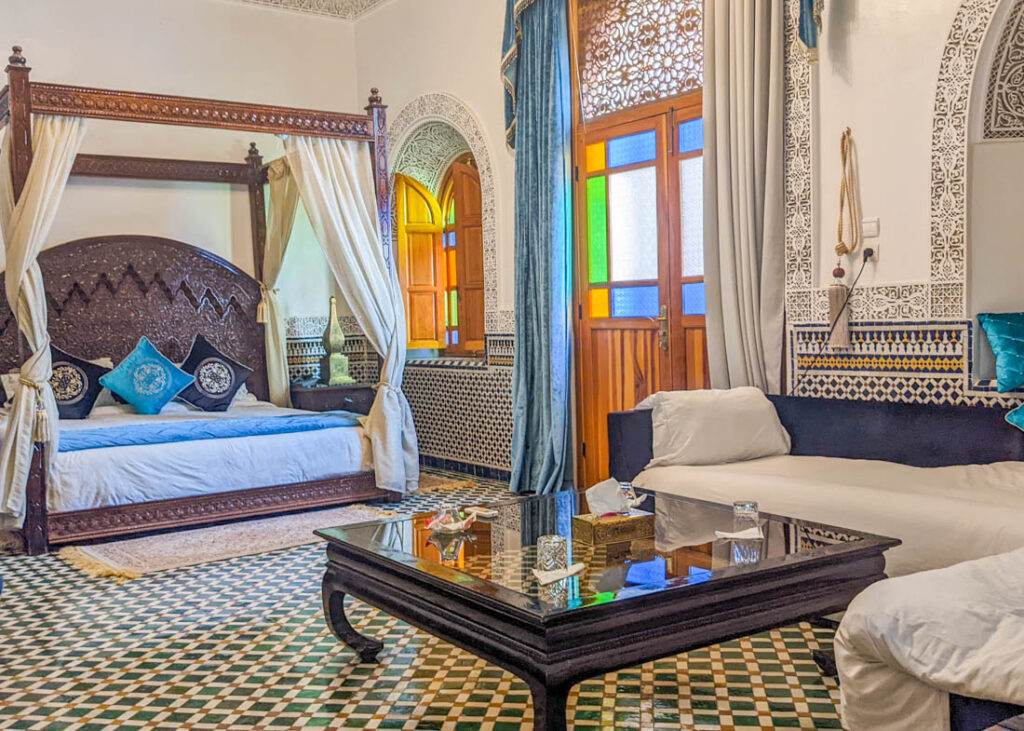 Steps lead down to the bathroom with a good power shower and plenty of towels.
The room has a TV, air conditioner, fridge and kettle.
The swimming pool
After two weeks of scorching heat in June, with temperatures reaching 40°C and staying in accommodation without air conditioning or a swimming pool to cool off in, this swimming pool at Houyam Palace had our name on it!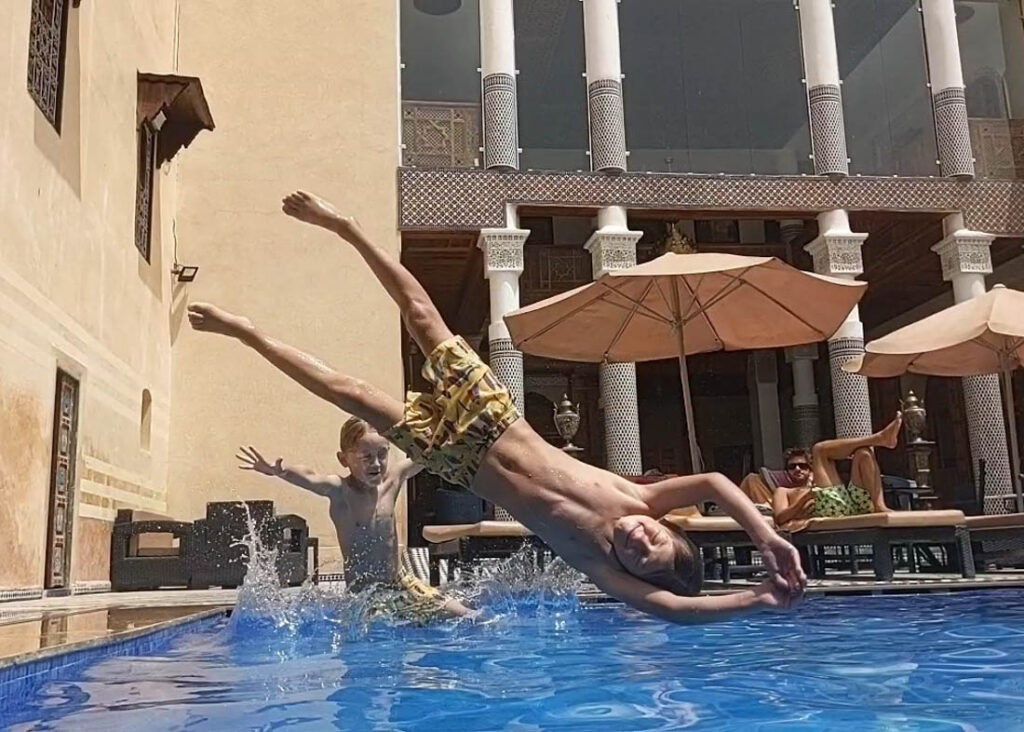 Now the swimming pool Houyam Palace isn't the biggest, and I was afraid it might be too small to keep the boys busy. But four hours of solid play in the pool on our first day confirmed that pool size doesn't really matter. Indeed, the boys spent more time in this pool than they did in previous riad pools in Morocco! Often the water in Moroccan pools is close to freezing, and that is why our Morocco packing list always includes a wetsuit. But to Houyam Palace the water temperature is truly perfect, which means guaranteed pool hours for the kids!
There are five lounge chairs by the pool and towels are available on request. Beer is also served on request if parents find a quiet 15 minutes.
To eat
A casual breakfast is served each morning by the pool, including fresh fruit, eggs and a selection of local breads. It's a nice place to start the day.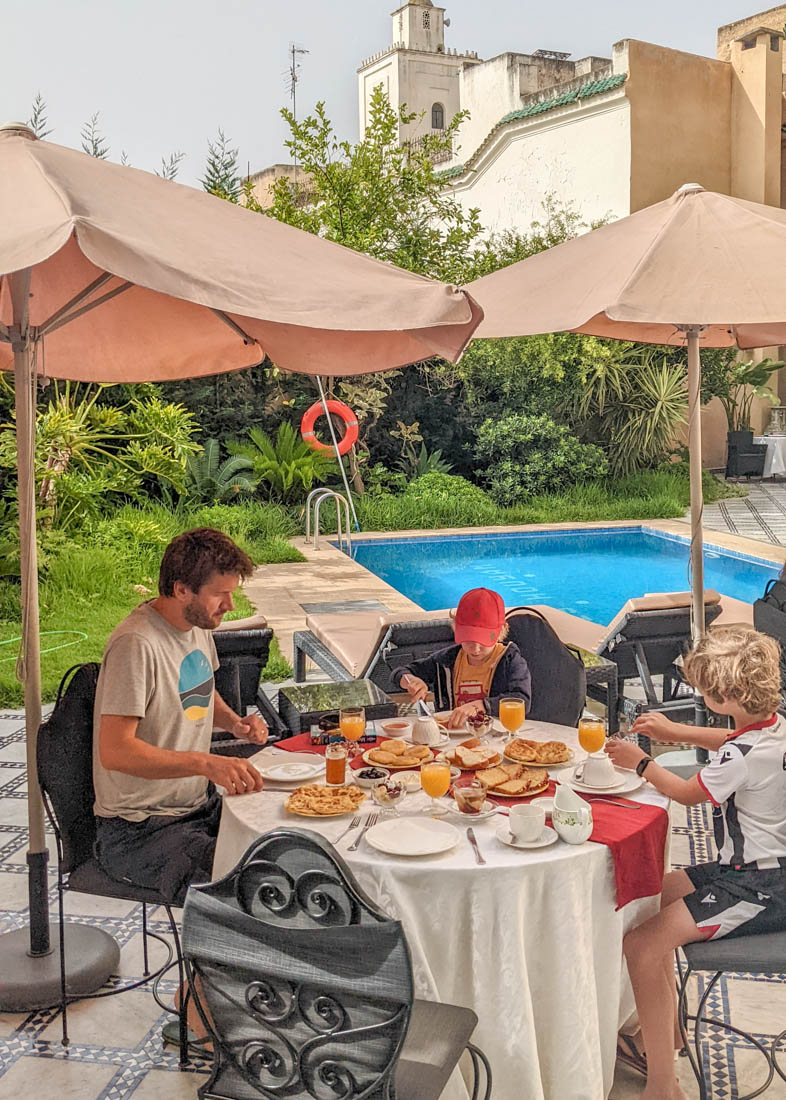 There is a lunch and dinner menu which can be served by the pool or in the upstairs restaurant. There are few snacks on the menu, but the staff will be happy to prepare something for you if a tajine or couscous dish doesn't suit you. Dinner prices are a bit higher than in the usual restaurants in the medina.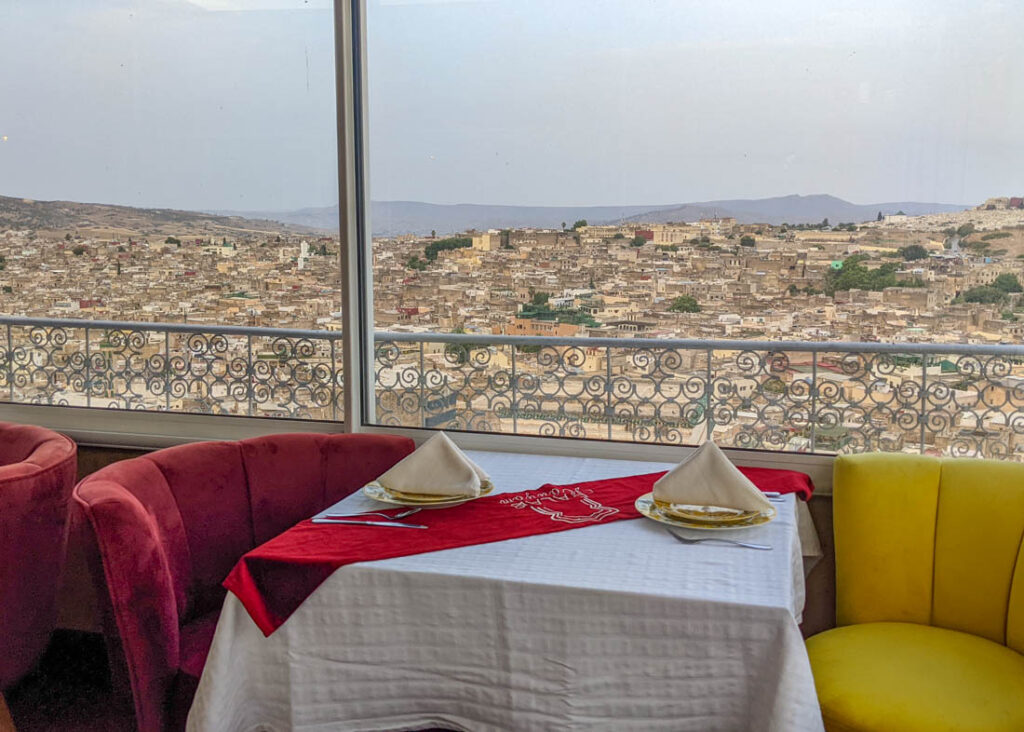 WIRELESS
WIFI is very good and available everywhere Houyam Palace. Our boys made a few online video calls for their DoodleLearning coaching classes (we are traveling long term through Morocco and the boys are taking online lessons) and the WIFI worked well.
Things to do near Palais Houyam
Houyam Palace is nestled in a quiet corner of the medina of Fez. There are rarely passing mopeds and very few footsteps. Also, there are no shops or restaurants right outside, but it's only a five-minute walk to get there.
However, it is still perfectly located for exploring the Fez medina. Click here to read our guide to things to do in Fez with kids.
Would we recommend Palais Houyam for families?
Staying in a traditional riad is a must when visiting Fez, and children are welcomed with open arms at Houyam Palace. In fact, as I'm typing this, there are two other families sitting around having breakfast by the pool. It's 9:20 a.m. and my boys are still sleeping. Although this is a pattern we have slipped into during our travels in northern Morocco; we make the most of the evenings and stay up late because it is much cooler at that time.
Houyam Palace is a riad that is used for visiting families, can be flexible with meal times and is happy for your children to jump in the pool.
Getting to Houyam Palace
We had taken the CTM bus from Chefchaouen to Fez. From the bus station in Fez, two Petit Taxis took us to Bab Ziat (costing 11 DH each on the meter). Petit Taxis in Morocco only take three passengers, so as a family of four we have to split into two Petit Taxis. Also, go straight to the red taxi queue in front of the bus station. Ignore any taxi driver who approaches you and the Grand Taxis.
Bab Ziat is a relatively quiet entrance to the Fez medina and is only a 100 meter walk from Houyam Palace. It is quite easy to follow directions on Google Maps.
How to book Palais Houyam
Visit the Palais Houyam website to consult the rates and book your stay.
---
You may also like to read:
REVIEW Riad Les Hibiscus: one of the best riads for families in Marrakech
Morocco with children: your questions answered
Visit Casablanca with children