introduction:

Everyone needs a website to get the icons from it, choosing the right icon is like putting the cherry on top of the cake, not complete without it.
Whether you want to create a design from scratch or update an old design, a high-quality set of icons will certainly help.
You don't want to use bad or outdated icons, they can make the difference between good and bad design.
I have collected for you top 5 icon websites for devs and designers.
I chose these sites from personal experience because I'm not a designer, so the sites that provided high quality and easy-to-use icons were really helpful.
Through these sites, you can get icons in all formats (png – svg – atc….)
Today's collection is diverse where you will find everything; Hand drawn icons, animated icons and 3D icons and much more.
And I will not talk about how many icons the site has or how many users it has, because all the sites say that this is the largest library of icons, the most trusted, the most diverse and others, but in general these are well-known sites. expect quality.
honorable mention:

If you want to get famous programming icons and logos here is an open source GitHub repo for that simple-icons
---
You can also check out Material Icon Theme Yes, the famous VsCode extension also has an open source GitHub repo.
---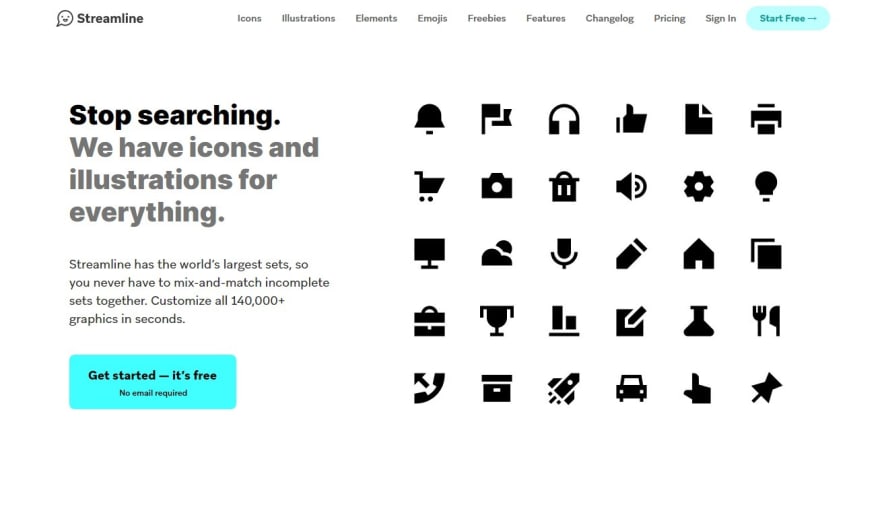 Streamline has a wide variety of icons and is considered one of the most famous sites in the field, but because I discovered it recently and I don't have much experience with it, plus such a thing as the best 11 icons site Not there.
Without further ado, the top 5 icon websites for devs and designers:
You can't get more classic than this.
Font Awesome is the Internet's icon library and toolkit used by millions of designers, developers, and content creators.
It provides a library and toolkit of icons suitable for programmers, where you can simply use a class when you download the library <i></i> element and it will work.
<i class="fa-duotone fa-camera-retro fa-beat" style="color: #1c7ed6;"></i>

You can modify the size and color of the icon and also add animation to it.
Great for Developers:
We have frameworks and toolkits for the most popular plugins and packages that already work as you'd expect.

great for designers
Use your own design with thousands of matching Font Awesome icons in each of six unique styles.
---
The most diverse in terms of icon styles.
Icon Fonts, Big or Small, for Any Project
+8,300 SVG and 0.000000Ont files based on vector icons optimized for web, iOS and Android applications.
Another excellent site in terms of compatibility with programmers and designers.
When I search for a new style icon, I always start searching here, where you'll find an icon that expresses everything you want.
And if you are a heavy Notion user and like me to put an icon for every page, then this site is very suitable for you.
Access to 8.5M+ Vector Icons & Stickers
Download free icons and stickers for your projects. Images created by and for designers in PNG, SVG, EPS, PSD and CSS formats.
---
What I love the most about this site are the 3D icons, which are professionally created and varied in terms of styles.
Over 5.3 million design assets
Curated SVG, vector icons, illustrations, 3D graphics and loti animations.
More than 7000+ new properties added every day. Integrated plugins, tools, editors, and more.
Work faster and save time with apps and plugins:
IconScout has integration with Figma, Adobe XD, Sketch, Illustrator, GSuite and MS Office. Our plugins let you find assets without leaving the tool you're using.
---
I can't mention the word most famous site without mentioning Google!!!
Simple, easy to use, variety, the features we use from Google.
You might know this site because it is almost the biggest site that people use to get fonts, but it also has a nice set of icons.
Perhaps the experience of using it is the simplest for programmers, where you only need to copy the code and it will work smoothly.
---
are you bored? Don't worry, let's end this list with an interesting site!!!

Although adding animations is usually not difficult, it adds a lot to any design.
And even if you're not going to use animated icons for some reason, I get inspired when I see them.
Simply add an animation to the Twitter icon on your site or add an entire animation. This site is for you.
Access 8,700+ animated icons
Lordicon is a powerful library of carefully crafted animated icons,
Ready for use in digital products, presentations, or videos!
---
conclusion:

Originally this article was about top 10 sites and not top 5 sites but why do I write one article at once when I can write two articles.
Usually I prefer to talk more about dev topics, so I would like to know your opinion about the article.
what was missing?
Should I add more or less details?
Do I add more explanation or cut it out and just talk about the experience?
Author

Professional Link:
hire me:
Blog: